A Way with Words: Writing across Forms
An Ashoka University online course for high-school students.


Course Dates
June 11, 12, 18, 19, 25




About The Course
In this course students will meet a variety of literary genres – the poem, the essay, short fiction, the letter, graphic narratives. Discussions of literary texts will be accompanied by students writing in these genres. Detailed feedback to their writing will be provided during the workshop. 
Apply for Horizons Summer 2022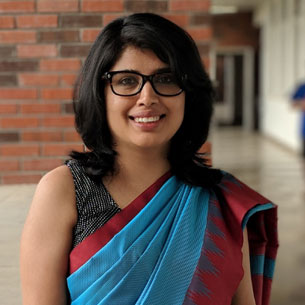 Sumana Roy
Ph.D. University of North Bengal
Sumana Roy
is Associate Professor of English and Creative Writing at Ashoka University. Prior to this, she taught English Literature in government colleges in Bengal. She was a Carson Fellow at the Rachel Carson Centre for Environment and Society in Munich (2018), and a Full Time Visiting Fellow at the South Asia Program, Cornell University (Fall 2018).
She writes a monthly column on the subject of plant life for Hindu Business Line – it's called Treelogy. Her poems and essays have appeared in Granta, Guernica, Los Angeles Review of Books, The White Review, Caravan, Himal Southasian, Drunken Boat, the Prairie Schooner, Berfrois, The Common, Journal of South Asian Studies, Journal of Life Writing, and American Book Review.
Professor Roy's research interests include literature on the non-human, provincial Literatures, and cultures of close reading. As a practitioner, Professor Roy is invested in what she calls the 'minor' forms.
Horizons Course Objectives
Discover Your Interest and Aptitude
Go Deep Into Specific Disciplines
Learn with Amazing Peers from Schools across India
Explore Unique Perspectives and Ideas
Develop New Skills and Abilities
Learning Support for the Course

Swati Singh
Teaching Assistant
Swati Singh – Teaching Assistant
Swati Singh graduated from Ashoka University in 2021 with a degree in English and Creative Writing. They lead the "Queerly Beloved" reading groups for the collective, ReformtheNorm, and host the meetings of The Lucknow Book Club. As an undergraduate, Swati set up and led the illustration team of Kalinga, Ashoka University's satire magazine, and also illustrated for the Student Politics Newsdesk of the campus publication, The Edict. Their graphic narratives have appeared on platforms such as Zinedabaad. They have performed their poetry at the Lucknow Literature Festival as well as The Ahimsa Festival. Their short story, "Cliché" was the Winner (public choice) of the Tata Literature Live MyStory Contest in 2017. Their writing has also featured in publications such as Openaxis, InWords and Bewajah. When not drawing, writing, or translating, they can usually be found attempting to communicate deeply with dogs.