The Future of the Universe
An Ashoka University online course for high-school students.







discover your interests with unique, pre-college courses

3-Weeks live, online courses during holidays

personalized learning & interaction with ashoka university faculty

Completion certificate from ashoka university
About The Course
We are all very concerned about what will happen to the Earth in the next hundred years. However, cosmologists are trying to find out what will happen to the Sun, our Galaxy and the whole Universe in the next few billion years, even if humans in their current form are not there to witness how it unfolds. Ironically, to know what will happen to the Universe, we have to know about its past and present first, and to know the nature of its constituents. This course is about the considerable progress we have made in the last ten years in understanding the current stuff of the Universe, and thus predicting its ultimate fate.
Apply for Horizons Summer 2022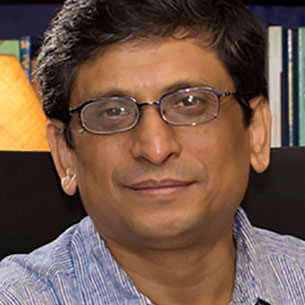 Somak Raychaudhury
Ph.D. University of Cambridge
Somak Raychaudhury is the Director of the Inter-University Centre for Astronomy and Astrophysics, Pune. He served as the Dean of the Faculty of Natural and Mathematical Sciences at Presidency University, Kolkata till 2015, and taught at the University of Birmingham, UK, for over a decade.
Professor Raychaudhury obtained a BA in Physics from the University of Oxford and a Ph.D. in Astrophysics from the University of Cambridge. He observes the sky in the optical, radio, ultraviolet and X-ray radiation using telescopes on the ground and in Space. His research interests lie in the study of the evolution of galaxies in groups and clusters, and on the supercluster filaments of the cosmic web. He has published over 120 research papers in peer-reviewed scientific journals on these themes.
Horizons Course Objectives
Discover Your Interest and Aptitude
Go Deep Into Specific Disciplines
Learn with Amazing Peers from Schools across India
Explore Unique Perspectives and Ideas
Develop New Skills and Abilities
Learning Support for the Course

Kartik Tiwari – Teaching Assistant
Kartik Tiwari is a Third Year Physics Major and Philosophy Minor. He enjoys employing computers to solve problems of physics. He has worked on ISRO's Navigation Satellites cluster and on numerical relativity with Miguel Alcubierre. Currently, he is studying Shape Dynamics as a member of Prof. Julian Barbour's working group. He likes to regularly invest his time in science outreach and occasionally in policy research. In philosophy, Kartik likes to read about Philosophy of Science, Formal Logic, and its inadequacies. Beyond academics, Kartik enjoys writing music on his guitar, reading vintage science fiction, watching rocket launches, and listening to Urdu poetry.
The AshokaX Popular Culture & International Relations course was one of the most enriching educational experiences I have taken part in. The course not only gave me an insight into International Relations as a discipline but also changed my perspective towards online learning.

Nandini Bohra
The Shishukunj International School
I was fortunate enough to attend Ashoka X's 'International Relations and Popular Culture' Course. Before enrolling, I was a complete novice in the domain of foreign affairs but after completing the course, I am now confident in the IR field and it has helped me in registering for a competition! The course really did 'Expand My Horizons'.

John Priyanshu Singh
Don Bosco School, Bandel, West Bengal
The 'Writing Across Forms' course at AshokaX, taught by Sumana Roy, was really very helpful for me as a still-amateur writer, and exposed me to a lot of ideas and works I hadn't encountered before, as well as a bunch of other young writers - I enjoyed it a lot! Vidushi
The 'Creativity and Design Thinking' course essentially rewired my thinking process. Through interactive and engaging classes, we were shown techniques that are tools I can carry forward and use in all future problem-solving.

Tamanna Balachandran