Measuring the Universe
An Ashoka University online course for high-school students.

Faculty
Somak Raychaudhary



Timings
June 3, June 15: 5:30 – 7:30pm
June 6,8,10, 13: 5:30 – 7pm


About The Course
Astronomers do not have the luxury of studying their subjects in a laboratory, or even visiting them. They have to apply tools of science from various disciplines to interpret the information they receive from the planets, stars and galaxies in the form of light and other forms of radiation. Here we will look at how we measure the sizes of celestial bodies and distances between them, thus estimating the size, mass and scale of the planets, the solar system, our Galaxy and the Universe. How do we know what the mass or weight of the Earth is? How much matter is there in our Galaxy? Are the stars and galaxies made of the stuff of which we are made? Putting all of this together, it will tell us very surprising things, about the past, present and future of the Universe, that we are only now uncovering.
Apply for Horizons Summer 2022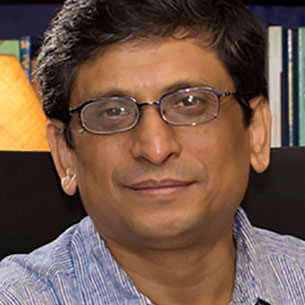 Somak Raychaudhary
Ph.D. University of Cambridge
Somak Raychaudhury is the Director of the Inter-University Centre for Astronomy and Astrophysics, Pune. He served as the Dean of the Faculty of Natural and Mathematical Sciences at Presidency University, Kolkata till 2015, and taught at the University of Birmingham, UK, for over a decade.
Professor Raychaudhury obtained a BA in Physics from the University of Oxford and a Ph.D. in Astrophysics from the University of Cambridge. He observes the sky in the optical, radio, ultraviolet and X-ray radiation using telescopes on the ground and in Space. His research interests lie in the study of the evolution of galaxies in groups and clusters, and on the supercluster filaments of the cosmic web. He has published over 120 research papers in peer-reviewed scientific journals on these themes.
Horizons Course Objectives
Discover Your Interest and Aptitude
Go Deep Into Specific Disciplines
Learn with Amazing Peers from Schools across India
Explore Unique Perspectives and Ideas
Develop New Skills and Abilities
Learning Support for the Course

Kartik Tiwari – Teaching Assistant
Kartik Tiwari is a Physics Major and Philosophy Minor. He enjoys employing computers to solve problems of physics. He has worked on multipath error on ISRO's NavIC satellite signals and studied numerical relativity with Miguel Alcubierre. For his undergraduate thesis, he would be working on computational raytracing near neutron stars. In philosophy, Kartik likes to read about Philosophy of Science, Formal Logic, and its inadequacies. Beyond academics, Kartik enjoys writing music on his guitar, reading vintage science fiction, watching rocket launches, and listening to Urdu poetry.