Windows on the Universe: The Many Colours of Astronomy

Faculty
Somak
Raychaudhury

Course Dates
19th Dec – 11th Jan


Timings
5.30-7.30 pm
(Mon, Wed, Sat)



Applications
4th Dec 2020

DIVERSE AND ONLINE COURSES TO CHOOSE FROM

SMALL, LIVE CLASSES WITH RENOWNED ASHOKA FACULTY

A CERTIFICATE OF COMPLETION FROM ASHOKAX

LIFE-LONG ACCESS TO A HIGH-GRADE PEER NETWORK
About The Course
The Universe is the ultimate laboratory, and we can now study it as never before using various kinds of electromagnetic waves, e.g. light, radio waves, ultraviolet, X-rays, along with high-energy particles, and gravitational waves. The modern astronomer is in many ways a detective, piecing together faded clues from the information coming through these windows, drawing expertise from various disciplines. In this course we will look at how the story of the Universe is constructed from this wide variety of observational resources.
Apply for Horizons Summer 2022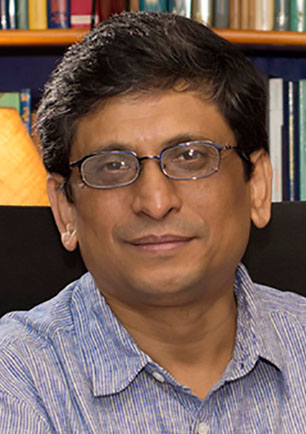 Somak Raychaudhury
Ph.D. university of Cambridge
Somak Raychaudhury is the Director of the Inter-University Centre for Astronomy and Astrophysics, Pune. He served as the Dean of the Faculty of Natural and Mathematical Sciences at Presidency University, Kolkata till 2015, and taught at the University of Birmingham, UK, for over a decade.
Professor Raychaudhury obtained a BA in Physics from the University of Oxford and a Ph.D. in Astrophysics from the University of Cambridge. He observes the sky in the optical, radio, ultraviolet and X-ray radiation using telescopes on the ground and in Space. His research interests lie in the study of the evolution of galaxies in groups and clusters, and on the supercluster filaments of the cosmic web. He has published over 120 research papers in peer-reviewed scientific journals on these themes.
Academy Common Course Objectives
Experience new Learning & Engagement Models on Important Topics
Become Familiar with Diverse Readings, Research & Resources
Learn to Engage in Critical Debate & Discussion
Expand Your Perspective across Disciplinary Boundaries
Develop Analytical & Critical- Thinking Faculties
Learning Support for the Course
Rashmi Gottumukkala
Teaching Assistant
Rashmi Gottumukkala – Teaching Assistant
Rashmi Gottumukkala earned her B.Sc. (Hons.) Physics from Ashoka University in the summer of 2020 and aspires to become an astronomer. She is currently a 4th-year student at Ashoka. When she isn't coding or looking through a telescope, you can find her reading her favourite classics or crocheting pretty little trinkets, and her constant companion through all of life's ups and downs is a steaming mug of chai.