Faculty
Somak Raychaudhury



Timings
6:00 pm to 8:00
(Mon,Wed, Fri)



Applications
4 July, 2020

DIVERSE AND ONLINE COURSES TO CHOOSE FROM

SMALL, LIVE CLASSES WITH RENOWNED ASHOKA FACULTY

A CERTIFICATE OF COMPLETION FROM ASHOKAX

LIFE-LONG ACCESS TO A HIGH-GRADE PEER NETWORK
About The Course
How large is the Earth? How far away are the stars? What is the weight of the Moon? How fast does a comet move? How old is the Universe? We've been asking these questions for thousands of years but only in the last century have we been able to find ways of measuring distances, sizes, ages, speeds and masses of most things in the Universe. Some of these answers lead us to deeper questions, many of them related to our existence on this small planet orbiting a minor middle-aged star in a vast and old Universe.
Fees after 50% scholarship for this course – ₹20,000 plus GST
Apply for Horizons Summer 2022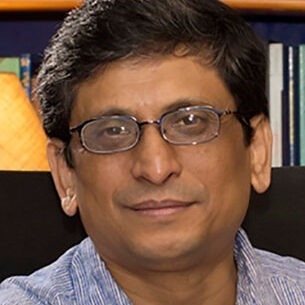 Somak Raychaudhury, a world renowned astrophysicist, currently serving as the Director of the Inter-University Centre for Astronomy and Astrophysics, Pune. A curious student from his early days, he has been an Inlaks Scholar at Oxford, earned the Issac Newton Studentship at Cambridge, and has been awarded Smithosnian postdoctoral fellowship at the Harvard–Smithsonian Center for Astrophysics. He is known for co-building NASA's flagship-class space telescope the Chandra X-Ray Observatory. He is also a Fellow of the Royal Astronomical Society.
Raychaudhury champions the cause of astronomy to the wider public, especially to schoolchildren and their teachers. At present, he is helping the Pune local authorities beat the COVID-19 pandemic using his expertise as a leader and data scientist. His students remember him for his attention to detail, his empathetic teaching methods and his depth of knowledge.
Academy Common Course Objectives
ENGAGE DIRECTLY WITH FACULTY ON THEIR UNIQUE THINKING MODELS AND APPROACHES
GAIN INSIGHTS INTO PERSPECTIVES THAT ARE ROOTED IN CURRENT RESEARCH
LEARN HOW TO COLLABORATE WITH DIVERSE PEERS
EXPAND YOUR WORLDVIEW WITHIN AND ACROSS DISCIPLINARY BOUNDARIES
DEVELOP WAYS TO MEASURE YOUR LEARNING AND GROWTH BEYOND GRADES