AshokaX with Register Interest for next cohort

Ashoka University Online Exclusive

Uniquely Crafted – First in India

Live Learning & Real-World Projects

Senior Professional Peer Cohort

Few spots left – last week of applications


Total Weekly Commitment: 6 – 8 hours

Tuesdays and Thursdays: 6:00 – 7:30 PM
Saturdays: Discussions & Guest Seminars
Session recordings available to all selected
From public policy to advertising and digital media, there is a rapidly growing demand and value for organizations to use Behavioural Science to design solutions and solve complex challenges. But :
 How and where are Behavioural Science insights

applied

?
 What are the

frameworks

for assessing and implementing interventions?
 How do you invent a "nudge" and

design solutions

for complex problems?
This unique programme will equip you with a toolkit of scope, theory and implementation to provide you with the "know-how" for applying behavioural science for both personal development and in your professional role. 
Taught by behavioural science specialists at the Centre of Social and Behavioural Change, who work at the forefront of behavioural change interventions for positive impact, this programme is specially designed for working professionals across industries.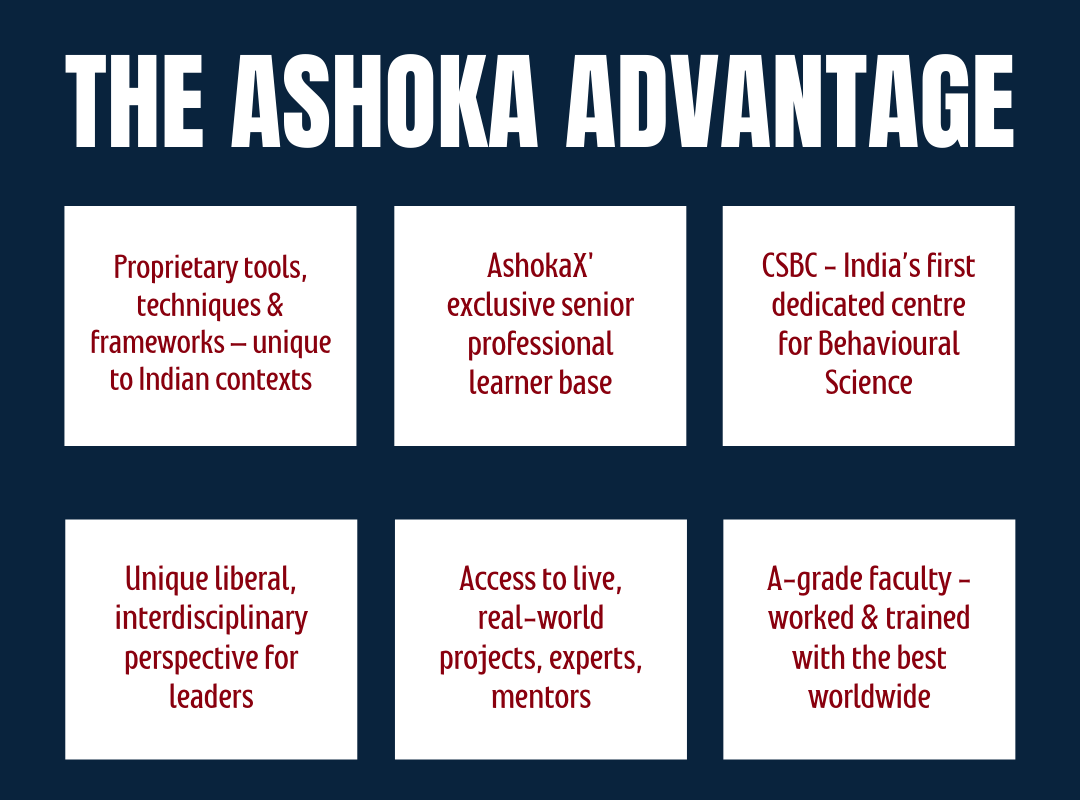 Pavan Mamidi
Director, CSBC
Ph. D. University of Oxford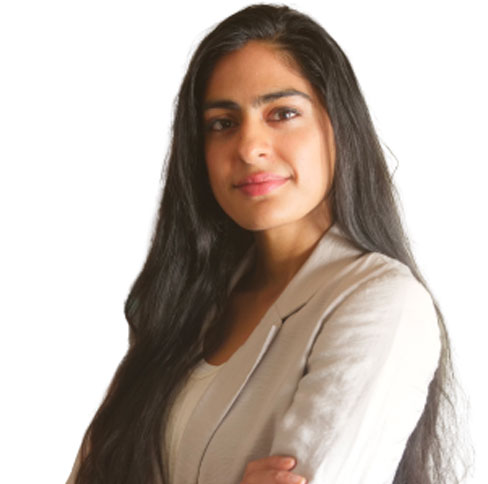 Sanna Balsari-Palsule
Asst. Professor, Ashoka University
Ph. D. University of Cambridge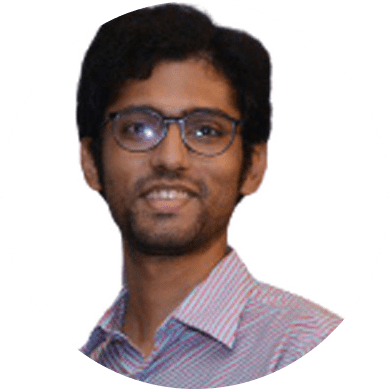 Shagata Mukherjee
Lead, NITI Aayog Behavioural Insights Unit
Ph. D. Georgia State University

Sharon Barnhardt
Director-Research, CSBC

Pooja Haldea
Senior Advisor, CSBC

Sneha Shashidhara
Senior Research Consultant, CSBC

Diksha Radhakrishnan
Deputy Director, CSBC

Purnima Mehrotra
Leads Measurement & Learning Vertical, CSBC

Gautam Patel
Lead, State BIUs & Deputy Director, CSBC
What You'll Take from this Course
Latest frameworks and theories from Behavioural Economics, Social Psychology and Neuroscience
Hands-On skills to apply Behavioural Insights to Drive Change
Real-World experience working with Behavioural Scientists and Policy Leaders on Live Projects
Leading perspectives on "Nudging" and "Nudge-Based" Techniques
The most effective tools to Design, Implement & Assess interventions and change.
You should take this Course if
You are a Mid to Senior Professional Leader keen to apply the latest Behavioural Science tools and techniques to make better connections.
You engage directly with consumers and brands either as a marketer, advertiser, a brand in-charge or a communication executive.
You are a community and/or institution builder working in policy, academia or individual or societal change in any form.
You design user interactions, products or experiences in retail, consumer applications, media or marketplaces.
Psychology

Law

Marketing

Criminology

UI/UX Design

Business Development

Public Policy

Modern Medicine

Personality Coaching
The programme spans 12 weeks.
Tuesdays, Thursdays – Live Coursework with Anchor Faculty
Saturdays/Sundays – Guest Speaker Presentations and Discussion Sections
This programme takes a unique approach to the application of behavioural science. Divided into two modules of roughly 6 weeks each, students will be introduced to the precepts and applications of behavioural science beginning with themselves, all the way to society at large. As part of the course, a 5-part specialisation seminar series is also offered to take a closer look at narratives and how they become instruments of behaviour change.
Module 1.  How to Change Your Life – Nudging Yourself
The first part of the programme trains you in the application of behavioural science to your own lives. From strengthening your interpersonal skills, to tackling biases, these eight modules translate key theories and frameworks from behavioural science, behavioural economics, neuroscience and social psychology into practical "action strategies" and exercises to practice and incorporate into your daily life.
1. How to craft your goals
The power of your personal projects
Aligning your personal projects to your actions
Strategies for achieving your goals and personal projects
2. How to build habits and stick to them
The power of elastic habits
The science of habit formation
Strategies for building good habits (and doing away with the bad ones)
3. How to outsmart biases
Exploring a balanced decision-making potential
The science of unconscious biases and their effect
Discover your approach and design your own decision architecture
De-biasing techniques – the impact of micro decision
4. How to manage your emotions
Faking emotions at work and avoiding burnout
The power of multiple selves
Strategies for exercising your emotion muscle
5. How to change your personality
How personality shapes your life and why change is possible
Building restorative niches for your well-being
Strategies for changing your personality
6. How to tell your story
The role of self-authoring and the narratives shaping our lives
The power of effective communication
Strategies that change the way you tell your story
7. How to navigate conflict
The science of persuasion and conflict resolution
The importance of tolerance for ambiguity
Strategies for conflict resolution
Module 2.

How to Change Someone Else' Life –

Nudging Others
The second module turns the lens outwards and combines empirical research with real-life case studies from the Centre of Social Behavioural Change. By the end of these eight modules, learners will be adept and equipped with the tools to adopt a behavioural lens, apply frameworks and design and evaluate successful interventions (and even build a nudge unit!) .
1. How to change behaviour
The power of formal institutions – laws

The power of informal institutions – social norms

Nudges/Choice Architecture
2. How to run experiments
Iconic experiments in science

Causation

Behavioural Experiments

Observational Methods

Field experiments
3. How to conduct ethnographic research
Ethnography

Talking to people 

Picking up barriers to change

Picking up enablers of change 
4. How to design for social norms
What are social norms?

Can norms be changed in a short duration?

How does one measure and study norms?

Norm nudging
5. How to run digital campaigns and strategies
Role of social media in social change

Building a behavioural change campaign for digital world

Mapping different digital platforms

Building a community based change strategy
6. How to create stories for change
Behavioural economics and Narratives

Edutainment

Fragmented attention, and Tik Tok messages

Storytelling, cartoons, songs, and music
7. How to apply behavioural science at the bottom of the pyramid
Health

Financial Inclusion

Gender

Ethnicity and Caste
8. How to invent nudges
Case studies of iconic nudges

Processes of invention 

User innovation

Boring but effective versus Interesting and Ineffective
9. How to build a Nudge Unit
Types of people in a Nudge Unit

Building a team to do ethnography

Building a behavioural lab

What does it take to do advocacy, and scale up?  
10. How to be an ethical nudger
Trolley problem – Utilitarianism and Rights

Libertarian Paternalism – the contradiction

The price of autonomy

Deception in nudging

What does the law say about nudging? 
Specialisation Seminar Series: Constructing Stories for Behaviour Change
This 5-part seminar series lends a shared platform to speakers from scientific and creative perspectives to jointly explore how to construct compelling narratives and leverage them for behaviour change. These diverse perspectives will enable conversations and spark ideas that narrow the gap between rigorous theory and pragmatic application. 
The seminar series inspires telling your own story more effectively ("Nudge Yourself"), as well as leveraging the power of narratives for behaviour change ("Nudge Others"). At the end of the 5-part series, we hope to leave learners with a deep understanding of ways to construct narratives that can lead to behaviour change.
1. Understanding the power of narratives
Influence of narratives on attitudes and behaviours

Underlying mechanisms that lend power to narratives

How stories can be leveraged in an attention-scarce world
2. Humour, drama or sci-fi: How do you pick the right tonality for your story?
The influence of varying tonality on audience perceptions

How to choose the right narrative "mood" for different communication goals
3. Creating memorable characters to tell your story
How audiences interact with narrative characters

The influence of characters' personalities and arcs on audience perceptions

Strategies to build strong characters
4. Blurring lines between the story and its platform of delivery
The influence of various mediums of storytelling and its impact on audience perceptions
5. Educating while Entertaining
The impact of differing education:entertainment ratios in edutainment and its implications on audience perceptions
Application and Selection
●     Register here to get the course prospectus
●     Submit your application with basic details and a short Statement of Purpose
●     Each Application is carefully reviewed by a faculty committee of the CSBC
●     The programme is a limited, exclusive offering and admission will be offered to selected candidates only
For more information , schedule a call with an enrollment representative.